Pasta e Cinema | Ziti | February 14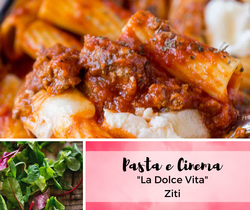 Date: Friday, February 14, 2020
Time 6 PM to 9 PM
Venue: 3400 Carson Court, Placerville, CA 95667
Contact: Amber
Phone: 530-269-9463
Email: info@viaromanovineyards.com
"Pasta e Cinema," Valentine's Day Edition, with dinner, a chocolate and wine pairing, and a movie! We will have a pasta Ziti dish, fresh baked focaccia, and salad. Wine will be available for purchase by the glass or bottle.
Featured Movie: "La Dolce Vita"
Featured Pasta: Ziti
Please email us here if you have any special dietary needs, and we will do our best to accommodate you.
Please note most of the movies being shown are PG-13, and may not be suitable for children under the age of 13.
* Club Members, please sign in to receive your discount
* Tickets will not be refundable one week prior to the event, however, can be exchanged for a future event.