Yin & Vin | Yoga & Wine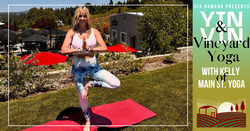 Easy Flow Yoga on our gorgous terrace on Wednesday, June 14th at 10am with Kellee from Main Street Yoga here at Via Romano! It couldn't be any better than this beautiful view with an hour of instructed yoga, a light vegetarian lunch and a delicious glass of wine.
The delicious and healthy lunch to complement the yoga session includes Italian spiced edamame for a great source of plant-based protein and fiber. A roasted red pepper, artichoke, and spiced-whipped cheese wrap provides a satisfying mix of flavors and textures. The cucumber and red onion salad is a refreshing and hydrating addition, and a selection of fruit provides natural sweetness and vitamins. We end the meal on a sweet note with a light panna cotta.
Club members receive 20% off at checkout when you log in to your Via Romano account. If you need assistance, please call us at 530.269.9463.
Product Reviews