Via Romano Vineyards Winemaker Dinner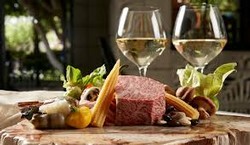 Indulge yourself with a six-course Italian dinner prepared by Chef Giovanni Gaudio. The courses will be paired and created with our wines and chef will be cooking them in our wood-fired pizza oven! We're looking forward to a few special treats, as Giovanni will have just returned from his annual trip to Italy.
~THE MENU~
Antipasti
Farinata
Traditional Ligurian Chickpea Crepe with Onion and Sage
2015 Calaveras County Vermentino
Peperoni Ripieni con Tonno e Bagnet Verde
Red Peppers stuffed with Tuna finished with a Classic Piemontese Parsley Sauce
2016 Shenandoah Valley 'Lileana' Rosé di Sangiovese
Primo
Angolotti Del Plin
Traditional Hand-Made Pasta filled with Meat and Organic Local Greens
2014 Dolcetto
Secondo
Braciola di Manzo
Rolled Beef filled with Proscuitto, Cheese and Herbs Slow-Roasted in Barbera and Giovanni's Hand-Made Tomato Sauce
2014 Fairplay Barbera
Dolci
Formaggi
An Assortment of Artisanal Cheeses from the Italian Alps
Hand-selected by Chef Giovanni
2013 Sierra foothills 'Papa Romano Red' Super Tuscan
Crema di Cogne e Tegole
Chocolate Cream with Almond-Hazelnut Cookies
Paired with a sneak peek of our upcoming Nocino and Moscato di Nero!