Trio of White Wines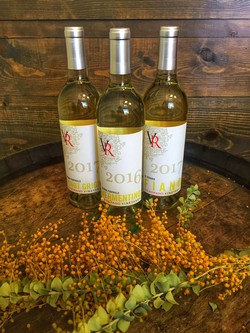 Get ready for Spring with this trio of one bottle each of our new release white wines!
Vermentino is an obscure grape variety best known for growing in Northern Sardinia in the province of Olbia Tempio, where it is believed to have been in cultivation since the 14th century. We are lucky to have found it growing here in the Sierra Foothills.
Pinot Grigio originated in the Lombardia region of Italy. Pinot Grigio has a medium body with a fruity and zesty acidity. It is a perfect wine to pair with lighter meals, appetizers, or to just enjoy on it's own on a hot day.
Fiano is an intensely flavorful white grape that grows primarily in the Southern Italian regions of Campania, Basilicata, and Puglia. It has been produced since at least Roman times, and is known for its rich texture, giving wines produced from it more body than many other white varieties. We were lucky to find this grape growing locally, just down the road from our Tasting Room.