Travel with VRV 2023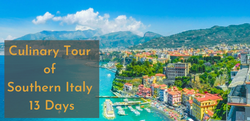 Join us for our 4th Annual "Travel with Via Romano"
Culinary Tour of Southern Italy | October 23 - November 4, 2023
Sorrento, Pompeii, Capri, Amalfi, Paestum, Agropoli, Cilento & Rome
DEPOSIT IS ONLY $549!!
Discover the beauty and charms of Southern Italy on this culinary adventure through the Sorrento area, Campania region and Rome. UNESCO World Heritage Sites, historic monuments, breathtaking scenery and hands-on culinary experiences are sure to please as you travel through Italy with Jon & Leanne.
Culinary experiences include a pizza-making lesson, gelato-making demonstration and tasting, Limoncello tasting, pasta and pastry-making class, fresh Buffalo mozzarella cheese demonstration and tasting, wine tasting at a local vineyard, olive oil mill tour and tasting and a foodie walking tour in the food centric Trastevere area of Rome.
The amazing sights and scenes of Southern Italy include a guided tour of Sorrento, a tour of the archaeological excavations of Pompeii, a hydrofoil trip to see the breathtaking beauty of the island of Capri, the scenic Amalfi coast with a stop in the village of Amalfi, the Greek temples of Paestum, guided tour of the Eternal City of Rome, including Palatine Hill, Circus Maximus, the magnificent Coliseum and Forum and last but definitely not least, the Sistine Chapel and St. Peter's Basilica in Vatican City.
$6,698* per person
$6,698* per person includes air travel, private room in 4-star hotels, breakfast daily, 6 dinners, 2 lunches, international airport transfers, tours in every city, bus transportation, city occupancy tax, hotel and transportation tips and trip insurance. Does not include extra taxi service, wine (unless noted), meals out and tours not arranged by us.
* Double Occupancy. Single Travelers wishing to room share with other single travelers (if available) will get the Double Occupancy Price. Single Occupancy wishing a private room is an additional $1,279. Please call Leanne at (530) 269-9463 to inquire about sharing a room.
No refunds for tours not attended during the trip. Via Romano Loyalty Points can't be used and are not accrued for travel.
Deposit of $549 Due On Booking. If traveling solo, the Single Occupancy Rate is also due at the time of booking. This will be refunded if you choose to book a Double Occupancy at a later date.
2nd Payment of $2,949 Due - February 25, 2023
3rd Payment $1,600 Due - April 26, 2023
Final Payment $1,600 Due - June 25, 2023
Product Reviews