2013 Sangiovese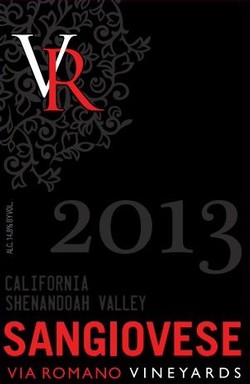 Available to Wine Club ONLY ~ Sangiovese is widely known as the grape of central Italy. The literal translation of Sangiovese is "blood of Jupiter," who was the Roman god of light, sky, the state and it's laws, and this grape variety is believed to date back to Roman times. To us the name is not a surprise, as Sangiovese produces juice and wine that is quite red in comparison to many other varieties.
AROMATICS
Earth, strawberry, plum, floral, nutty, cherry, violets
FLAVORS
Cherry, plum, fig, smoke, tomato, leather, tea leaf
CHARACTER PROFILE
Medium body, crisp acidic, dry tannins, full flavor, smooth
PRODUCTION NOTES
Our Sangiovese is a Brunello Clone that originates from Montalcino, the center of the Toscana wine growing region.
FOOD PAIRING
Gnocchi with sage and butter, lamb chops, tuscan white bean soup
CHEESE PAIRING
Gorgonzola dolce, parmigiano reggiano, pecorino romano, chevre, dry jack, fontina, provolone
AWARDS
Gold Medal: Monterey International Wine Competition
Silver Medal: California State Fair
Wine Specs
Appellation
Shenandoah Valley AVA