2015 Primitivo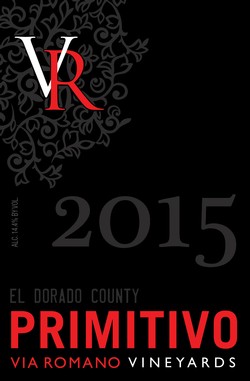 Primitivo is originally from the Puglia region of Italy and is genetically similar to Zinfandel. Many legends surround this grape. They range from the hard to prove (served at the Last Supper) to the hard to believe (it is thought to be the first "Primi" grape). The truth may lie somewhere in between and we do know it is called Primitivo for its propensity to ripen before all other varietals.
AROMATICS
Spices, white pepper, graphite
FLAVORS
White pepper, blackberries, dried fruits
CHARACTER PROFILE
Richer, fuller body, spicy
PRODUCTION NOTES
We produced 125 cases (five barrels) of this 100% El Dorado County Primitivo.
TERROIR
Grown at an elevation of 2650' feet.
FOOD PAIRING
Lamb and beef roasts and steaks with wine sauce or balsamic reductions
CHEESE PAIRING
Mild cheddar, edam, glouchester, manchego, muenster, aged provolone, parmesan