SOLD OUT: Pizza on the Patio with Jazz Gitan
November 3rd, 6pm - 9pm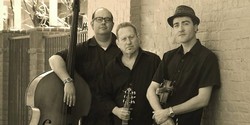 SOLD OUT
Come and relax on the newly renovated patio and listen to the hot club jazz band, Jazz Gitan, while Jon creates magic in the pizza oven.
Limited seats available.
Ticket includes entrance and unlimited pizza.
Tickets are $15 for wine club members (up to 4 tickets at this price per event) and $20 for non members. Members: If you are a club member then you do have an online account already set up. Please use the Forgot Password link if you don't know your password, or email us with any questions.