Pizza on the Patio 7|22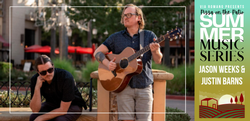 Get ready to experience the ultimate hometown vibe at Via Romano's Pizza on the Patio. Gather your loved ones and bask in the enchanting ambiance under a starlit sky. Indulge in our irresistible wood-fired pizza, accompanied by unlimited servings of fresh salad and house-made focaccia. Sip on your favorite wine, available by the bottle or glass, as you immerse yourself in the weekend atmosphere on our charming patio. Join us for an unforgettable evening filled with delectable wine, mouthwatering food, sensational music, and a lively atmosphere shared with family and friends. Don't miss out on this extraordinary event, as it is our last regular Pizza on the Patio. We can't wait to welcome you here!
Prepare to be captivated by the live performances of Jason Week and Justin Barnes on our patio, Saturday, July 22nd, from 5:30 to 8:30. Jason Weeks, a talented musician and vocalist, will serenade you with his original music and lively covers spanning across decades, from the 60s to today. Whether he performs solo, as a duo with Justin, or with his band Plaid City, Jason's hip playlist and engaging stage presence will undoubtedly set the perfect mood for music enthusiasts.
ChefJeff and Jon will be crafting all the delicious pizzas that you adore! From classics like Margherita and Italian Sausage to enticing combinations like Sauteed Portobello Mushroom & Caramelized Onion and Meat Lovers, every bite is a burst of flavor. Additionally, we will be featuring two seasonal produce-inspired pizzas Potato & Lemon and Apple & Fennel, ensuring a delightful culinary experience.
As a special treat for our Club Members, enjoy a 20% discount at checkout. Simply log in to your account to receive this exclusive offer. If you require any assistance or have a group of five or more, feel free to call us at 530-269-9463, and our friendly staff will be more than happy to assist you in placing your order.
Join us and create extraordinary memories at Via Romano's Pizza on the Patio. We can't wait to see you!
Ticket Descriptions

Choose from our three ticket options for the ultimate experience at our venue.
Music starts at 5:30!
PATIO TICKETS ~ Opt for our Patio Tickets and enjoy a romantic evening under the stars at our tables or barrel bar tables (based on availability). Patio Tickets include tableside service. Club Price $36
INSIDE TICKETS ~ Do you like a quieter setting while still enjoying the sound of the music? Our Inside Tickets are your best bet. You can still converse with your friends while enjoying the show in a more intimate and peaceful setting. Choose the ticket that suits your preference and join us for an unforgettable night. Inside Tickets include tableside service. Club Price $33.60
LAWN TICKETS ~ For a more relaxed experience, our Lawn Tickets are perfect for lounging in the grass with your friends. Our Adirondack chairs can be grouped together for your convenience, ensuring you are comfortable while enjoying the show. These tickets are for a self service experience. Club Price $32
Product Reviews