Ocean Wave Cheeseboard Class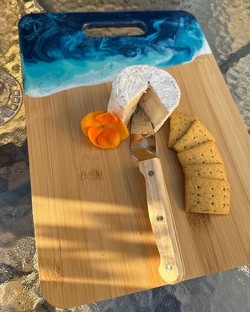 Our Resin Waves Cheeseboard class is a great way to be creative on a crisp fall morning. Create beautiful seascapes of resin on a real wooden cheeseboard! An instructor will take you step-by-step through the entire process from start to finish. These beautiful serving boards are created with food-safe resin will be a perfect addition to your dinner table at the holidays or a unique gift for friends and family.
This Wine & Design class will be held Sunday, October 1st at 10am - 12pm and includes all the materials to create a one-of-a-kind 9" x 12" Ocean Waves Bamboo Cutting Board and a complimentary glass of wine. After the class, stay for the wood-fired pizzas that are available for purchase.
Product Reviews