Lake Tahoe Pre-Release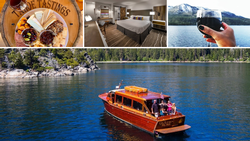 Only 14 Tickets Available
Tickets Available on Monday, June 17th at 1:00 pm
Summer Sippin' at Lake Tahoe
- There are only 14 tickets available -
Join us for an intimate 2-hour sunset cruise at Lake Tahoe while we sip our August Wine Release.
We have partnered with Tahoe Tastings and their boat the Golden Rose and
The Hotel Becket for an evening on the lake with Jon & Leanne.
A bountiful charcuterie will be served on board to compliment a vertical flight of our
2013, 2014 and 2016 California Shenandoah Valley Sangiovese, and our 2018 El Dorado County Fiano.
The Golden Rose was built in 1953 and in December of 1996, a blizzard partially sunk and heavily
damaged the craft and she was taken to a boat yard to be scrapped. The owner of Island Mariner Cruises,
the first whale watching tour company in Bellingham, Washington, saw her in the boatyard
and instead of allowing this beautiful Chris Craft to be scrapped,
he decided to recreate her as a Venetian Water Taxi.
He stripped her down to the hull, sanded, refinished the original mahogany, added Yellow
Alaskan Cedar, Ironbark from Australia, Pernambuco wood from Brazil and meticulously
rebuilt each part by hand. Her large windows have a rose etched in the glass at each corner.
All of the original chrome pieces were plated in 24 karat gold, which is
where she gets her name, the Golden Rose.
Find your perfectly peaceful retreat at day's end in South Lake Tahoe. Hotel Becket is
where nature meets modern in each of the rooms and suites with crisp bedding,
custom wood furnishings and rustic-chic accents such as tight-weave carpeting and
reclaimed barn doors. Wake up to the aroma of freshly brewed coffee from your in-room
coffee machine. Gently ponder the day's activities with newfound friends. This is where
adventurers come for thrills, couples' bond at the fire, and friends come to escape.
The boutique Hotel Becket places you in Heavenly Village near
all the good-stuff of Lake Tahoe...and breakfast is free.
Sunset boat Cruise Only - $100 per person
Sunset Boat Cruise and 1 night at the Hotel Becket - $225 per person