Z - Paris | Rome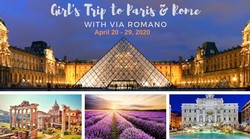 Travel to Paris and Rome with Leanne and Amber for GIRL'S TRIP!! April 20 - 29. Only 6-10 spots! Our 1st stop is Paris and we will be staying there for four days. Our hotel is in the center of Paris and close to everything. We will meander the city and see all the sites that Paris has to offer! Eating our way around the city of light like a true Parisian while we venture into authentic local neighborhoods to discover the real culinary treats of Paris. We will shop till we drop, hike to the top of the Eiffel tower and take a Seine River dinner cruise. There is time during our stay in Paris to pop into some of your bucket list places with an optional day trip to Versailles, wandering through the Louvre or catching the can-can at the Moulin Rouge.
After a short flight, we will stay for the remainder of our trip in Rome's historic City Center. Our hotel is walking distance from the Trevi Fountain, Piazza Navona and the Pantheon. Our first night we will take the most amazing dinner walking tour through the Trastevere… An exclusive night out in Rome's medieval Trastevere neighborhood. Among the six stops, we will skip the one hour wait at an award-winning Roman eatery and enjoy wine-tasting in a cellar 100 years older than the Colosseum! On day three of our Rome stay, we will take a coach to Montepulciano for an amazing tour of Poliziano Winery, a late lunch in the wine cave below the city and some of the best shopping in Tuscany! There will be time during our stay in Rome for an optional tour of the Vatican, the Colosseum and a pizza making class in the Roman Countryside.
We can't wait to share this amazing trip with you!
Air - San Francisco to Paris, Paris to Rome and Rome to San Francisco
Ground transportation – Round trip from Via Romano to San Francisco Airport, all airport to hotel and returns, five tours, hotels and room taxes, rooms and tips (transportation and maid service) included. Only $4,599 pp.

•1st Payment of $2,500 Due 1/30/20
•2nd Payment of $1,500 Due 2/15/20
•3rd Payment of $599 Due 3/1/20
•No refunds after 2/5/20
Product Reviews