Ongoing | Virtual Tasting Sample Pack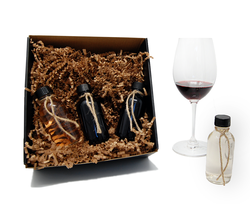 Date: Ongoing
Time: Ongoing
Venue: Via Romano Facebook (click link for video)
Contact: Amber
Phone: 530-269-9463
Email: info@viaromanovineyards.com
Sample pack of 4 wines from our Virtual Tasting on April 26th with Jon, Leanne, and Russ from the Kilt & Cork. During this virtual tasting, we will be discussing each wine, and cooking an appetizer to pair with our 2019 Fiasco Bianco.
Samples Packs are available for pick up on Fridays 12 - 4, Saturdays 11 - 5 or Sundays from 12 - 3.
We will be delivering wine for a $5 delivery fee from Pollock Pines to Sacramento (50 corridor only) on Saturday. Please call 530-269-WINE to see if your address is in our delivery area.
Tasting kit will include:
2 oz - 2018 Lileana, Rosato di Sangiovese
2 oz - 2017 Vino degli Amici
2 oz - 2017 Aglianico
2 oz - 2019 Fiasco Bianco
1 recipe card
(Sample Pack available to California residents only)