Amoré e Vino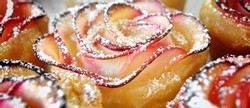 Create a magical night with your Valentine for our 3rd Annual Amoré e Vino: a romantic and intimate dinner featuring SAMMIE Award winning musician and Via Romano favorite Jessica Malone. Seats are very limited, so don't wait to RSVP. Cheers!
Antipasti
2017 El Dorado Primitivo
Red Wine Caramelized Onion and Goat Cheese Tartlet
Garnished with Rosemary from our Garden
Zuppa
2017 Sierra Foothills Vermentino
Rosemary Butternut Squash & Pear Soup
Garnished with Crème Fraîche and Fennel
Primi e Secondi
2016 Shenandoah Valley Sangiovese
Spiced Pear, Shallots, Braised Kale and Pecan Stuffed Pork Tenderloin* Vegetarian Option Available
Topped with a Reduction Drizzle and served with Braised Lacinato Kale, and Herb Roasted Fingerling Potatoes

Dolce
2017 Shenandoah Valley Lileana Rosé di Sangiovese
Torta di Mele Rosa Served with LoriBella's Dark Chocolate and Rose Gelato
Date: Fri, Feb 15, 2019
Time 6:00 PM - 9:00 PM
Venue: 3400 Carson Court, Placerville, Ca 95667
Contact: Amber
Phone: 530-269-9463
Email: info@viaromanovineyards.com
*If vegetarian option is requested, plese let us know in advance.