2023 Mother's Day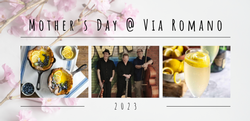 Celebrate Mom with us this Mother's Day at Via Romano and enjoy a morning on our beautiful patio or in our gorgeous tasting room. With a stunning weather forecast, it's the perfect place for your family to gather and honor Mom. Our day starts with the ever talented Jazz Gitan Trio, accompanied by a delectable 4-course brunch.

To begin, savor our Blueberry Lemon Dutch Baby, served in individual cast-iron skillets and paired with a California 75 ~ a citrus and sparkling Pinot Grigio cocktail. Next, indulge in our Pancetta and Asparagus pasta salad, perfectly complemented by our new La Bella Vita red wine blend. For your main course, enjoy a Farinata, a chickpea pancake topped with marinated mushrooms, feta, and a parsley chili drizzle, paired expertly with our Dolcetto wine. Finally, end your meal with our Whipped Ricotta topped with fresh fruit, chopped cashews, and a drizzle of local honey, paired with our new, not-yet-released Primitivo Rosé.

Tickets are selling fast, so don't wait! Prices are $48 per person for Club Members 21 and over, $28 for club members guests under 21, which includes a modified menu with sparkling soda. For club members guests under 10, a modified menu with juices and smaller portions is just $12. And for non-club members, the price is $60 per person. Join us for a memorable Mother's Day celebration at Via Romano!
Product Reviews