2020 Celeste, Rosato di Sangiovese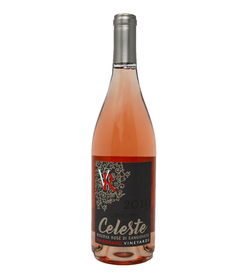 Our Sangiovese Rosé is a crispy, refreshing summer wine with a nose of fresh wild strawberries, cotton candy, and watermelon. A travel across the palate reveals medium acidity, salted watermelon, and saltwater taffy, which leads to an invigorating finish of strawberries and more strawberries.
AROMATICS
Fresh wild strawberries, cotton candy, watermelon
FLAVORS
Salted watermelon, stawberries, saltwater taffy
CHARACTER PROFILE
Light body, Medium acidity, crisp, refreshing
FOOD PAIRING
Light salads, especially those with fresh fruit. Light pasta and rice dishes, seafood, raw and lightly cooked shellfish and grilled fish.
CHEESE PAIRING
Fresh goat cheeses, sheep's milk cheeses like San Andreas from Bellwether Farms, Rochetta, La Tur, Robiola
Wine Specs
Appellation
Sierra Foothills AVA
Vineyard Designation
Bray Vineyard
Product Reviews