2015 Moscato di Nero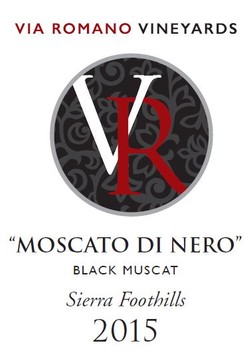 Moscato di Nero, or Black Muscat, is a red grape variety from the diverse and ancient Muscat family of grapes.
AROMATICS
Rose petals, plum, dried fruits, vanilla bean
FLAVORS
Dried fruits such as raisins and prunes
CHARACTER PROFILE
Medium-bodied, silky smooth and sweet with a round, rich flavor
PRODUCTION NOTES
Produced exclusively from Sierra Foothills grapes and brandy.
FOOD PAIRING
Chocolate Mousse, blackberry cobbler a la mode, cheese cake, anything with chocolate!
CHEESE PAIRING
Rich cheeses such as blue cheeses and gorgonzola dolce
Wine Profile
Other Notes
https://www.winemag.com/buying-guide/via-romano-2015-moscato-di-nero-black-muscat-sierra-foothills/