2014 Fiasco
Tuscan Style Red Wine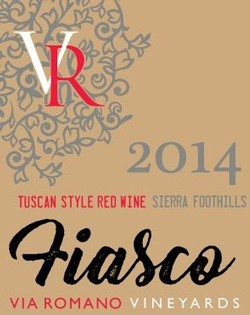 Like most other wines made in the Old World, Chianti derives its name not from the grape used to make the wine, which is Sangiovese, but from the region where it is made. Chianti is made in Tuscany, the romantic area of central Italy known for its sweeping landscapes, burning hot sun and its wealth of art and food . . . and where Jon and Leanne were married!
We have created a similar style by blending Sangiovese, Primitivo, and Vermentino. It is the perfect table wine for family dinners and it is meant to be shared.
AROMATICS
Dried Cherry, strawberry, violets
FLAVORS
Sour cherry, Plum, Cinnamon, Clove
CHARACTER PROFILE
Medium-bodied with forward fruit, a tangy acidity, and a spicy, long finish
PRODUCTION NOTES
Produced exclusively from Sierra Foothills grapes, with a blend of 63% California, Shenandoah Valley Sangiovese, 2% Nevada County Sangiovese, 30% El Dorado County Primitivo, and 5% Calaveras County Vermentino.
TERROIR
Produced from grapes grown in the Sierra Foothills.
FOOD PAIRING
Wood-fired pizza, tomato-based sauces like marinara, sundried-tomato Tapenade, and lighter meats like chicken, fish, or pork
CHEESE PAIRING
Aged Pecorino Toscano, Grana Padano Stravecchio, Aged Asiago, Fontina val D'Aosta.
AWARDS
Gold, Best of Class of Varietal: 2018 California State Fair Commercial Wine Competition
Wine Specs
Appellation
Sierra Foothills AVA