Welcome to the Via Romano Vineyards Recipe Blog. We post recipes of dishes from our home to yours, that also pair perfectly with our wines!

SEADAS
PREP TIME: 30 MINUTES
COOK TIME: 10 MINUTES
TOTAL TIME: 40 MINUTES
SERVINGS: 12 SEADAS
4 cups of plain flour
1 cup cold water, or as needed
4 tablespoons butter
1 pinch salt
10 ounces of a young Pecorino cheese, cut into cubes
Zest of 2 lemons
Olive oil for frying
3/4 cup honey
For dough, combine flour, salt and cold water bit by bit until create a silky, elastic consistency. Add butter. Knead until incorporated. Let rest 30 minutes, covered. Melt cheese in a small saucepan over gentle heat. If separating, add a tablespoon of flour. When melted, stir in the lemon zest then pour onto parchment lined baking sheet to form an even layer. Let cool. Cut out 12 rounds with a cookie cutter about 3 inches wide. Roll out the dough to about 1/8 inch thickness. Place one round of cheese in the center of one round of dough, top with another round of dough and press the edges well with fingers or fork. Fill a wide pan with olive oil until it reaches a depth of one inch. When hot, fry the seadas until golden on both sides (some prefer not to flip them but to spoon the hot oil over the top). Remove from pan and place on kitchen paper until they are all ready (keep warm).Gently warm honey until liquid then pour over the Seadas.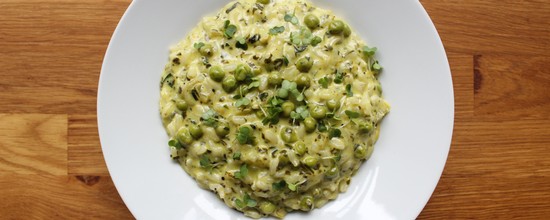 RISOTTO VERDE
PREP TIME: 10 MINUTES
COOK TIME: 40 MINUTES
TOTAL TIME: 50 MINUTES
SERVINGS: 4-6
6 to 7 cups chicken, vegetable or garlic broth or stock, as needed
Salt and freshly ground pepper
2 tablespoons extra-virgin olive oil
1 medium finely chopped onion, or 2 shallots, minced
2-3 TBS butter
1 cup dried porcini mushrooms, rehydrated
2 garlic cloves, minced
2 cups arborio or carnaroli rice
½ cup dry white wine, such as pinot grigio or sauvignon blanc
1 cup fresh peas, thawed (optional)
2 tablespoons chopped fresh parsley
1 cup grated parmigiano reggiano
Bring stock or broth to a simmer in a saucepan, with a ladle nearby. Make sure stock is well seasoned, and keep it simmering on the stove. (Tip: you can add your porchini mushroom water to stock)
Heat oil in a wide, heavy nonstick skillet or saucepan over medium heat. Add onions or shallots and cook gently until just tender, 3 to 5 minutes.
Add rice and stir until grains begin to crackle. Add mushrooms, and wine and cook, stirring, until wine is no longer visible in pan. Stir in enough simmering stock to just cover the rice. The stock should bubble slowly. Cook, stirring often and vigorously, until stock is just about absorbed. Add another ladleful or two of stock and continue cooking, not too fast and not too slowly, stirring often and adding more stock when rice is almost dry, for 15 minutes.
Add peas, and continue adding stock and stirring for another 10 minutes. Rice should be tender all the way through but still al dente. Taste now and adjust seasoning.
Add another ladleful or two of stock to rice. Stir in parsley and Parmesan, butter, and remove from heat. Season with salt and black pepper and serve right away in wide soup bowls or on plates.
FOCACCIA DI RECCO
PREP TIME: 15 MINUTES
COOK TIME: 7 MINUTES
TOTAL TIME: 22 MINUTES
SERVINGS: 3-4
3 cups bread flour
3/4 cup cold water
1/2 cup olive oil, plus more for greasing and drizzling
2 teaspoons salt, plus more for sprinkling
1 pound stracchino or Crescenza cheese, or your choice of soft cheese, like, triple cream goat cheese
Using a wooden spoon, mix the water, olive oil, salt, and 1 cup of flour in a medium bowl until smooth. Add the remaining 2 cups of flour little by little, mixing with the spoon until thoroughly combined. Knead by hand in the bowl for 5 minutes or until smooth and elastic (poke it; it should bounce back easily). Let rest, wrapped in plastic, in the fridge for 2 to 3 hours.
Preheat the oven to 480º F, and grease a baking sheet or a round pizza tray with olive oil.
Divide the dough into 4 even pieces and keep them under a tea towel or wrapped in plastic wrap when not in use. Roll out the dough ball initially with a rolling pin on a floured work surface, then begin stretching it carefully with your hands, using the weight of the dough to help stretch it. Get the dough as thin as you can, then transfer it to the prepared baking tray. Lay spoonfuls of the cheese over the dough. Take another piece of dough and roll and stretch again as before. Lay this layer over the cheese. With a knife, a rolling pin, or your hands, tap the edges of the dough together all along the border of the tray to trim the dough to exactly the size of the tray (see pictures for reference). Go over the edges of the focaccia again with your thumb, pressing down to seal the edges of the two layers of dough (again, see the pictures). Gather the excess dough, and roll into a ball to use for the next focaccia.
Pinch the top of the dough in 5 or 6 places to create holes for steam to escape. Drizzle the top of the focaccia with a bit of oil and sprinkle with a pinch of salt. Bake for 7 minutes, until lightly golden brown and the cheese has melted.
While the first focaccia is in the oven, prepare the second with the remaining dough (adding the scraps from the first to the balls of dough) and bake when the first is out of the oven; I'd recommend only baking one at a time as the distribution of heat will be compromised with more than one in the oven.
The dough can also be frozen (wrap it tightly in two layers of plastic wrap and then freeze.) Before using the dough, defrost overnight in the fridge or for a few hours on the counter. The dough will keep in the freezer for up to 3 months.
BROCCOLI ALLA ROMANA
PREP TIME: 10 MINUTES
COOK TIME: 15 MINUTES
TOTAL TIME: 25 MINUTES
SERVINGS: 4
3/4 cup mild tasting olive oil
1 lb broccoli or broccolini, sliced lengthwise into 1/8 pieces
1/8 cup capers, rinsed, dried and lightly chopped
3-6 whole anchovies chopped (Optional)
1/2 cup dry white wine (Not Optional) 4-6 small garlic cloves, coarsely chopped
1/2 tsp fennel seeds, lightly ground in a mortar
dried chili flakes - to your preference
Pecorino Romano cheese for serving
Fresh baby arugula for serving
Warm 1/4 cup of the oil in a 12 inch skillet over medium heat. Add most of the sliced broccoli leaving the smallest bits behind on the cutting board for the moment. They'll burn if you add them too soon. The oil should sizzle quietly. Swirl the pan, and leave the vegetables to cook until you see the edge bits browning, about 3 minutes. Salt very lightly and toss or stir gently. Add a few more spoonfuls of oil and scrape the remaining bits of broccoli and the chopped garlic into the pan. Add the capers and swirl gently and then add wine. Continue cooking over medium heat for a few more minutes until the edges begin to brown and the wine cooks down, then give the pan another stir. Once the broccoli is tender, reduce heat, add remaining oil, the chopped anchovy, fennel, and chili flakes all over. Give the vegetables a stir or toss to distribute. Cook for 2-3 minutes, Mash mixture to a rough consistency. Taste and adjust spices to desired flavor
CREAMY PASTA with SMOKED SALMON, LEMON and ASPARAGUS
PREP TIME: 10 MINUTES
COOK TIME: 40 MINUTES
TOTAL TIME: 50 MINUTES
SERVINGS: 4

FOR THE ROASTED VEGETABLES
1/2 lb linguini
2 Tbsp olive oil
2 cloves of garlic, minced
1 cup diced red onion
1 heaping cup chopped asparagus
2 cups vegetable broth
1 medium lemon, zested and juiced
1 cup of cream
1/4 cup cream cheese
4 handfuls of baby spinach
2 Tbsp capers, drained
8 oz smoked salmon, chopped
kosher salt, to taste
cracked black pepper, to taste
TO ROAST THE VEGETABLES
Heat the olive oil in a large skillet over medium heat. Add the garlic, onions, and asparagus; sauté until the ingredients are fragrant and tender, about 5-7 minutes. Once the veggies are tender, transfer them to a bowl and cover the bowl and set aside.
Pour two cups of the vegetable broth into that same skillet and bring the broth to a simmer. Scrape any browned bits to deglaze the pan. Add the pasta, fully immersing it into the simmering broth, and lower the heat to medium-low. Add the fresh squeezed lemon juice.
Let the noodles simmer in the broth until they're al dente or your preference of tenderness. In general, this should take about 25 minutes. Add extra broth as needed throughout the cooking process. If you're out of broth, simply use water.
When the noodles are near done, add the milk and the cream cheese, as well as a pinch of kosher salt and cracked black pepper. Stir well to mix and melt the cheese, and keep tossing the pasta until completely coated. Once the sauce has thickened and coated the pasta, add the cooked onion/garlic/asparagus you set aside earlier to the noodles as well as the spinach, capers, lemon zest, and smoked salmon. Toss again to distribute the ingredients throughout the pasta.
Remove the pasta from the heat, cover it, and let it stand for five minutes. Season the pasta with extra salt and pepper if needed.
Serve with a lemon wedge for an extra spritz of lemon, if you'd like!

CREAMY TOMATO & ROASTED
VEGETABLE RISOTTO
PREP TIME: 10 MINUTES
COOK TIME: 35 MINUTES
TOTAL TIME: 45 MINUTES
SERVINGS: 4
CALORIES: 354 KCAL
FOR THE ROASTED VEGETABLES
1 tbsp olive oil
300 g cherry tomatoes
2 red peppers
1 large courgette zucchini
A generous pinch of salt and pepper
TO ROAST THE VEGETABLES
Preheat the oven to 350F and add the olive oil to a roasting tin.
Chop the vegetables into small chunks and spread out in the tin, adding the salt and pepper before giving everything a shake to coat.
Roast for 30 minutes.
FOR THE RISOTTO
1 tbsp olive oil
1 large red onion diced
3 garlic cloves minced
225 g risotto rice
1 tbsp balsamic vinegar
250 ml passata
250 ml vegetable stock
Approx 6 sun-dried tomatoes chopped into small chunks
A small bunch of fresh basil torn
salt and pepper to taste
Optional parmesan to serve
TO MAKE THE RISOTTO
Meanwhile, add olive oil to a shallow casserole dish or large frying pan, on a low-medium heat.
Sauté the onion for a few minutes before adding the minced garlic and cooking for another minute.
Stir in the rice with the vinegar and stir for approx 30 seconds, to coat it in the oil.
Pour in the passata and vegetable stock, 1/2 cup at a time, alternating between the two. Allow each amount to be absorbed by the rice before adding the next.
After 20 minutes, add in the sundried tomatoes and the roasted vegetables. Give everything a stir, adding more liquid if needed, and cook for a further 5 minutes until everything is cooked through and the rice is done.
Remove from the heat and stir in the basil, salt and pepper and vegan cheese (if using). Feel free to stir in any extra oil or dairy-free butter at this point for an extra creamy risotto.
Serve right away and enjoy!
Jon and I are so excited to show off what we have accomplished in such a short time. Our winery is set to open in the next few weeks! We are fine tuning the tasting room and preparing to pour you a taste of our handcrafted wines.
We have worked very hard to make our winery a place where you, our customer, feels welcome. Bring your family, as we are a family run winery. You may see our granddaughter, Lileana, tidying up the tasting room or our sons Josh and Kelsey making Sidre in the spring. Our daughter Aubrey and daughter-in-law (to be) will be working behind the bar pouring you one of our fantastic wines while Papa Romano (my dad) and my mom will be visiting with guests in our tasting room.
Come in and join the family!